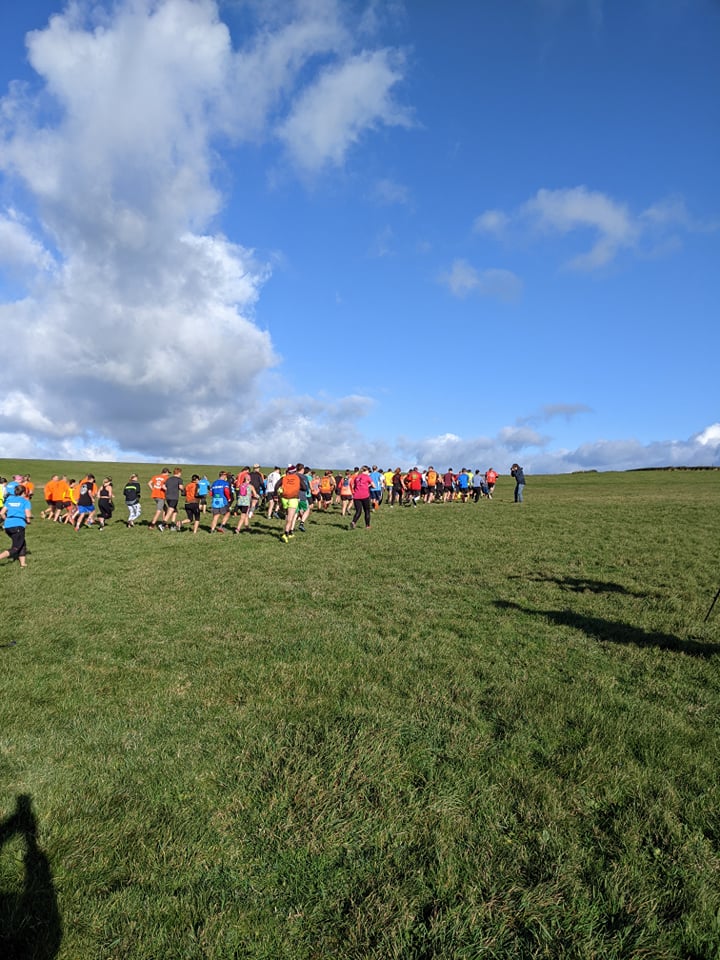 Thank you to everyone who made the 2021 #TAL19 another amazing day!
Race results can be found here
Race day photographs can be found here
Race Report
Once again, Bude's annual multi-terrain 19km race, the #TAL19, held in memory of local Bude boy Talan Penny, was bathed in sunshine and blue skies. On what would have been Talan's 24th birthday (Sunday 21 November), over 150 runners ran 1km for each year of Talan's short life, taking in some of his favorite places in and around Bude.
Talan died in 2017 from rhabdomyosarcoma, a rare form of cancer affecting children and young people. He endured 16 months of treatment and was just 19 when he died. Since then Talan's Trust have raised £100,000 in his memory, providing much needed funding to the Institute of Cancer Research. The Trust's hope is that one day kinder and better treatments will be found for this awful disease.
Sarah Penny, Talan's mum and CEO of Talan's Trust said:
"The day was filled with love and energy like no other, and as always, Bude supported this event so brilliantly. Whether that was taking on the challenge of running, standing in the cold marshalling the runners around the course, helping make soup and cakes to feed the runners at the finish line, providing much needed massage for tired legs at the end of the race or just simply cheering our runners on. It all makes for such a memorable day and one that we know Talan would be so proud of."
As well as the main 19km event, runners are also able to choose to do the shorter distance of 10k and some choose to do the 19km as part of the Anywhere, Anyhow event.
Sarah says
"When we couldn't safely hold the 2020 event due to Covid we came up with the idea of the Anywhere, Anyhow #TAL19 event which meant that entrants ran or walked the 19kms wherever they were over a week in November. Some chose to do it all in one go, and others chose to clock up the miles in segments across the week. We decided to incorporate this element of the #TAL19 again in 2021 and had runners and walkers taking on the challenge here in Bude, but also across the UK and even in Australia and New Zealand too."
The race also saw 50 children and young people complete the 1.9km fun run before the start of the main race. As they completed their energetic race they were all presented with a medal and as it was Talan's birthday they also received a Lion Bar too. The chocolate was kindly donated by Julia and Adrian from Wainhouse stores.
To top the day off, we were delighted to see a new course record being set by Ian Gooding, who completed the 19kms in an incredible time of 1hr 13min and 36 seconds. See our race results below.
Sarah added:
"The day is only a success because so many people support us and I'd like to say a huge thank you to them. To Vicky Innes for overseeing the catering for the day, Kevin O'Reilly and the Scouts who make sure everyone is fed and watered, Helen Larwood and Vicko for keeping the mugs of soup and the tea coming, the Salsa band Energia, giving our runners a much needed boost at the halfway point, David Herman who gets us all moving and warmed up before the race, Ron Cann who brilliantly comperes the finish line, congratulating runners as they cross the line and keeping us all up to date on what is happening out on the course, Sophie from SE Sports Therapy and Paul Cottle for massaging tired legs, the Harris family for manning the merchandise stall, Dan and Rohan Ellis for checking in runners and being brilliant timekeepers, the Department 26 cyclists for helping to keep our runners safe, Angus McDonald for being our race medic, Jon and Ben for taking all the race day photos, the Bude Surf Life Saving Club for hosting the day and to our many, many friends who give up their Sunday to marshall the race – keeping everyone running in the right direction. And finally, to the Talan's Trust committee, for all your work behind the scenes."
A date has already been set for the 2022 race – Sunday 20th November – and early bird tickets will be available to buy in December.
Race Results
MENS' 19km
1st Ian Gooding 1.13.36
2nd Martin Colwill 1.17.37
3rd Thomas Murnn 1.17.54
WOMENS' 19km
1st Kathryn Beades 1.31.07
2nd Chloe McGrath 1.33.01
3rd Anna Tanner 1.34.33
PAIRS' 19km
1st Sophie Shute, Ian Shute 1.34.34
2nd Jim Scown, Kate Burgess 1.51.09
MENS' 10km
1st Andy Davies 40.19
2nd Paul Kinsman 43.25
3rd Ian McMahon 46.22
WOMENS' 10km
1st Davina Brown 43.20
2nd Chantal Harp 46.39
3rd Helen Colwill 49.02